Billings Montana Gutter Cleaning Services by The Lawn Boys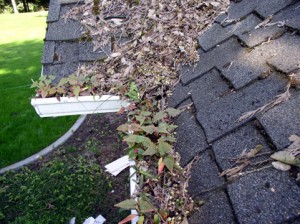 The Lawn Boys Gutter Cleaning Process
We will clean out your gutters by hand or other method (depending on the severity of the clutter) putting the debris in buckets etc. and then transferring all gunk to our trucks to be later hauled to the Billings Montana Landfill.
After removing the gutter blocking debris that clogs your gutters, we will either flush out the entire gutter system and downspouts – or use high-powered blowers – to make sure that all water can run freely as it was intended by design.
As you know clean and functional gutters are very important to the health of your home. Clogged gutters will overflow causing wood damage that will eventually rot wood siding causing leaks in your siding while slowly destroying the exterior of your home.
We recieve calls quite frequently pertaining to overflowing gutters that leak into the home from damaged wood or other siding material. Prevent being one of these future calls by making sure your Gutters are clean today.
Rotting wood, wet insulation, and molding sheetrock, add to the basic home destruction of water damage when everything finally dries. Not to mention dry rot and then lastly the dreaded MOLD.

It is common that this level of damage will attract wood eating termites as well. Most importantly, standing water in gutters attracts Mosquitoes which lead to West Nile Virus as they lay their eggs in standing water.
Yes, all this from not having your Gutters cleaned on a yearly basis.
Call The Lawn Boys today for your Free Estimate. 406-534-9494 or use our contact form